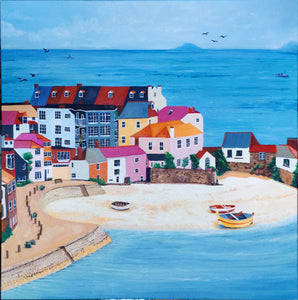 Houses By the Sea
A challenging piece for me! I'm not such a practiced painter of buildings plus this was also the largest piece I had ever done up to that point, 1m x 1m, Oil over acrylic on stretched canvas. 
The idea was to paint a coastal town with boats, the sea and birds :)
Luckily I managed to get this piece shipped out just before the UK lockdown so it could provide some kind of escapism during that time! 
---